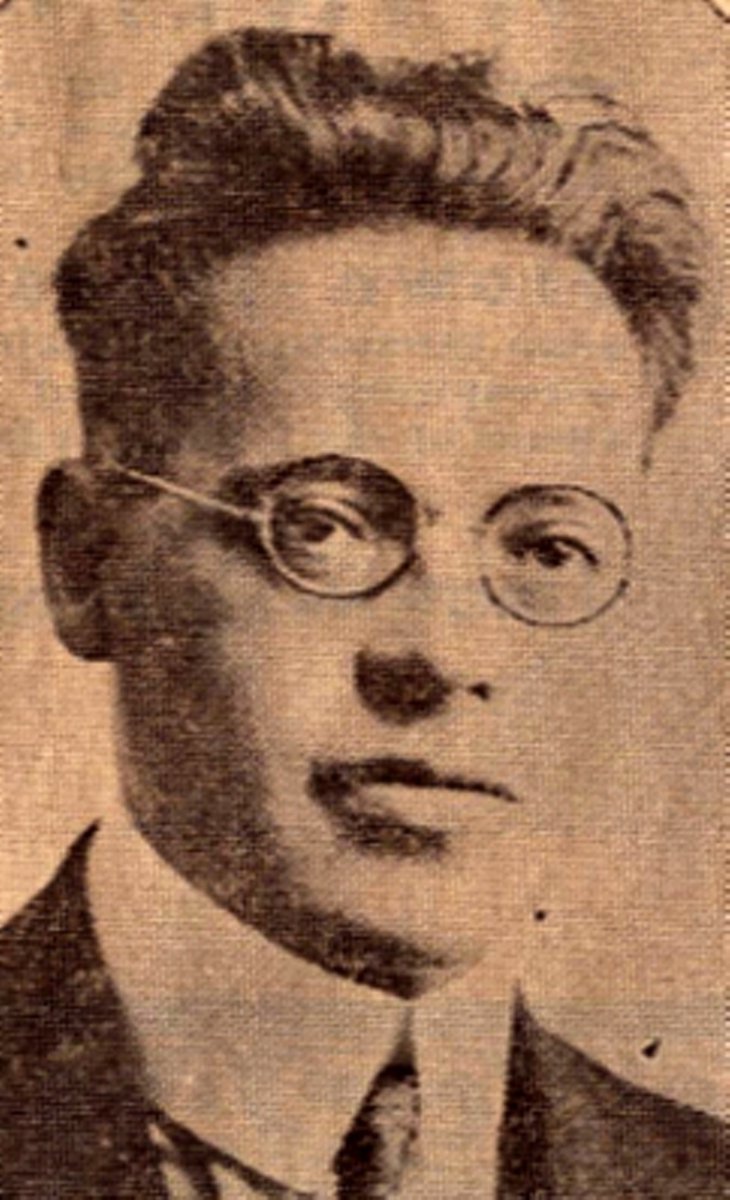 The first non-Christian religious ceremony in Iceland, after Christianity was officially adopted in Iceland in year 1000, was held over 941 years after the official conversion to Christianity at Alţingi, the original outdoor Parliament assembly at Ţingvellir east of Iceland´s capital Reykjavík.
The 1941 gathering was a Jewish Yom Kippur gathering. It took a World War for a new religion to be practised in this culturally homogenous country of ours. In all likelihood, the first rabbi who led a religious ceremony in Iceland came to Iceland under the auspices of the US Army. It was in the fall of 1942. His name was Julius Amos Leibert. He was quite a remarkable man and an advocate of modern reformed Judaism.  Although Rabbi Julius Leibert only came to Iceland two or three times, it is quite certain that he is the first rabbi who served a Jewish congregation in Iceland. It seems to me that it is very fitting to remember him with the honour he deserves and for the great person he was. 
B
orn in Lithuania as
Zelig Lebedko
Julius Amos Leibert was not born an American. He was, like many other Americans, a poor immigrant on the North American continent. Immigrants sought there to improve their conditions and sometimes to escape certain death due to persecution in their homeland.

Leibert was born in Lithuania on March 20, 1888. Some sources claim that he was born already in 1885; And that he intentionally kept his documents showing a later birth-date than the real one, in order to have a better chance of being admitted to the United States. When Julius was born, Lithuania belonged to the Russian Empire.

In Lithuania, Julius Leibert was not the name given to this first rabbi of Iceland. The boy was given the Jewish name Zelig, and the family name was at that point in the Russian style, Lebetky. However, at the turn of the century he was also recorded as Zalkan Lebedko (also Lebedky and Lebedkin, being names derived from ha Levi).

Zalkan was born in the town of Kedainiai, a small town that the Jews called Keidan in Yiddish. Keidan is not very far from Kaunas, which the Jews then called Kovno (see my article about my visit to Kaunas in 2015).
The family-name Lebedky has probably been adapted in Lithuanian, when Lithuanian was allowed as a language in Kedainiai. Around the time Zelig was born, the Russians banned all use of Lithuanian outright. People were imprisoned or even murdered, if they printed so much as one word in Lithuanian.

Zalkan Lebedko´s parents were Chaim HaLevi Lebedky (ca. 1851-1936), the son of Itzik HaLevi Lebedky (1806-1888), who was the son of Dov (Berel) HaLevi Lebedky (1751-1806). Zalkan´s mother was Leya or Ley (Leah), née Weintraub (1848-1902). Zelig Lebedky´s mother died of stomach cancer in 1902 and Chaim died shortly after. In 1904, Zalkan/Zeug emigrated to the United States with his 6 siblings. One of his sisters married to the name of Morris, and another sister´s name was (Fanny) Feige Elle, who later married Weinstein. Other sisters were Bluma Magil, who moved to Québec, Canada and Esther Feldman who lived in New York, as well as Rachel Sager and Molly Moskowitz both of whom lived in the Los Angeles area.

In the United States, the young Lebetky, like many in his steps, changed his name and called himself Julius Amos Leibert from then on. Some of his siblings also took this new name. Rabbi Leibert himself later said that he adapted the surname Leibert to celebrate the freedom, Liberty, that he received in the United States. Leibert sounded like Liberty in his opinion.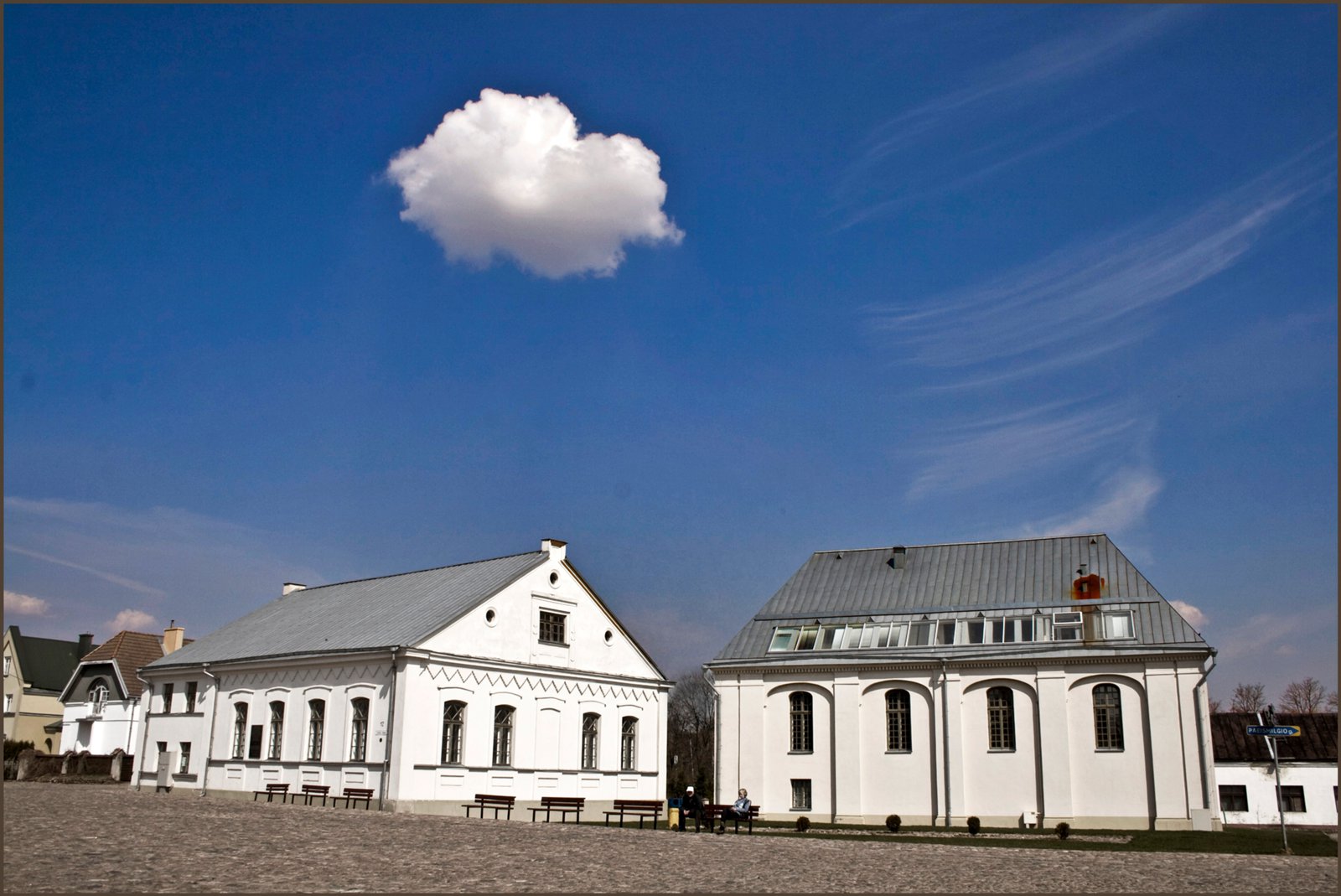 The synagogues in Kdainiai
When Zalkan/Julius was born, there were many synagogues, prayer houses and Jewish schools in Kedainiai. Seven prayer houses in the second half of the 19th century. The majority of the town´s population at the end of the 19th century were Jews. Jews first settled in the town in the 17th century and the town became an important religious midpoint and a center of great learning, and not only for Jews. Scottish Protestants also settled there.
Today, two beautiful buildings from the 19th century are preserved in Kedainiai, which before the Holocaust were synagogues. Today they are used as the town´s museums. Kaidan was also known for its production of gukurki (pickled cucumbers) and the town and the surrounding area was the main producer of cucumbers in the Baltic countries.

Some inhabitants of Keidan.

Before the 1920s, the number of Jews in Kedainai had
dropped significantly. Many religious Jews of Kedainai fled for Poland and Belarus in 1939, but after the Germans arrived in the town at the end of June 1941, they murdered 325 of the Jewish inhabitants until the beginning of August of the same year. The executions took place in two forests around the town, with the loyal help of many locals. The remaining Jews of Kedainai, as well as ca. 1000 Jews from smaller villages nearby, were murdered at the Smilaga River. There the people were made to dig ditches - their own graves. They were shot on the spot, their bodies looted and then dumped in the trenches.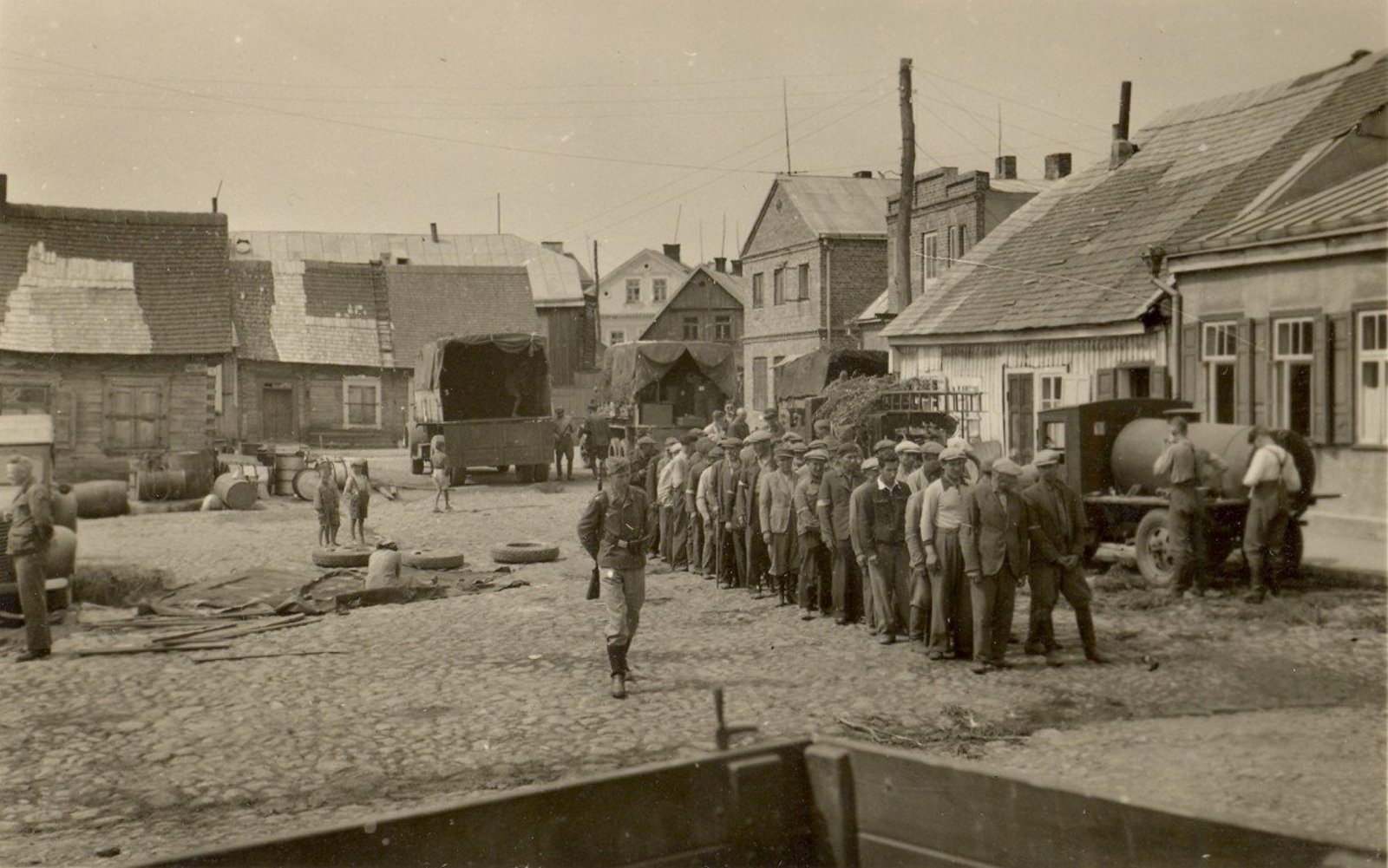 Jews in Keidainai herded together for execution
T

he Holocaust in Lithuania, with the loyal support of a great number of local collaborators of the Nazi, was from an anti-Semitic point of view a great success. Nowadays, many Lithuanians worship some of the the local murderers as national heroes, and it is a huge disgrace and sickening to witness that Nazis annually roam the streets of Lithuania´s largest towns hailing murderers of Jews with the full permission of the authorities, and without protests from the European Union, which Lithuania is a member state of. The names of Lithuanian street have been changed and in later years and have been given the names of the murderers of Jews.
A popular and a busy Rabbi
Julius A. Leibert´s career as a Rabbi in the United States was very long, spanning from 1915 to the 1960s. The man was a hard worker and could never really feel at ease unless he as working.

Julius A. Leibert studied ardently in the land of possibilities. He studied at the Hebrew Union College in Cincinnati, Ohio under Professor Julian Morgenstern. Morgenstern was one of the leading theologians and founders of the Union of American Hebrew Congregations (UAHC), a movement that was later called the Union for Reform Judaism (URJ). Julius Leibert completed his rabbinical studies and training in 1915, but in addition to his theological studies, he studied law. There were a few breaks in the studies due to Rabbi Leibert´s military service in the First World War. He served as a rabbi in the US Army, but was not sent to a conflict zone in Europe.

His first position after military service as a rabbi was at the Beth El Synagogue in Scott, South Bend, Indiana, and later at Congregation Aavath Shalom in Indianapolis.

Julius Leibert got married in 1919. His wife was Leona, nee Goodman (1896-1971).

In his thirties, he got a position at a new synagogue, Emanu-El in the city of Spocane in the state of Washington, where he was very well received. He and his wife were given a car in 1920 as a token of appreciation for a job well done. The couple travelled widely in their car through the western regions of the United States.
Julius Leibert was tremendously busy in Spokane, i.a. during the construction of a new (second) synagogue for the city. He was also very active in the youth work. He also let himself be heard publicly, which was often necessary because in these parts there was a lot of anti-Semitism that other Europeans, including the Lutheran Swedes had imported with them in abundance from their old country in Scandinavia.

Leibert worked in Spokane from 1919 to 1923. From 1923 to 1928, Leiberts served in Temple Israel in Long Beach, California, and for a while in Temple Emanuel in Los Angeles.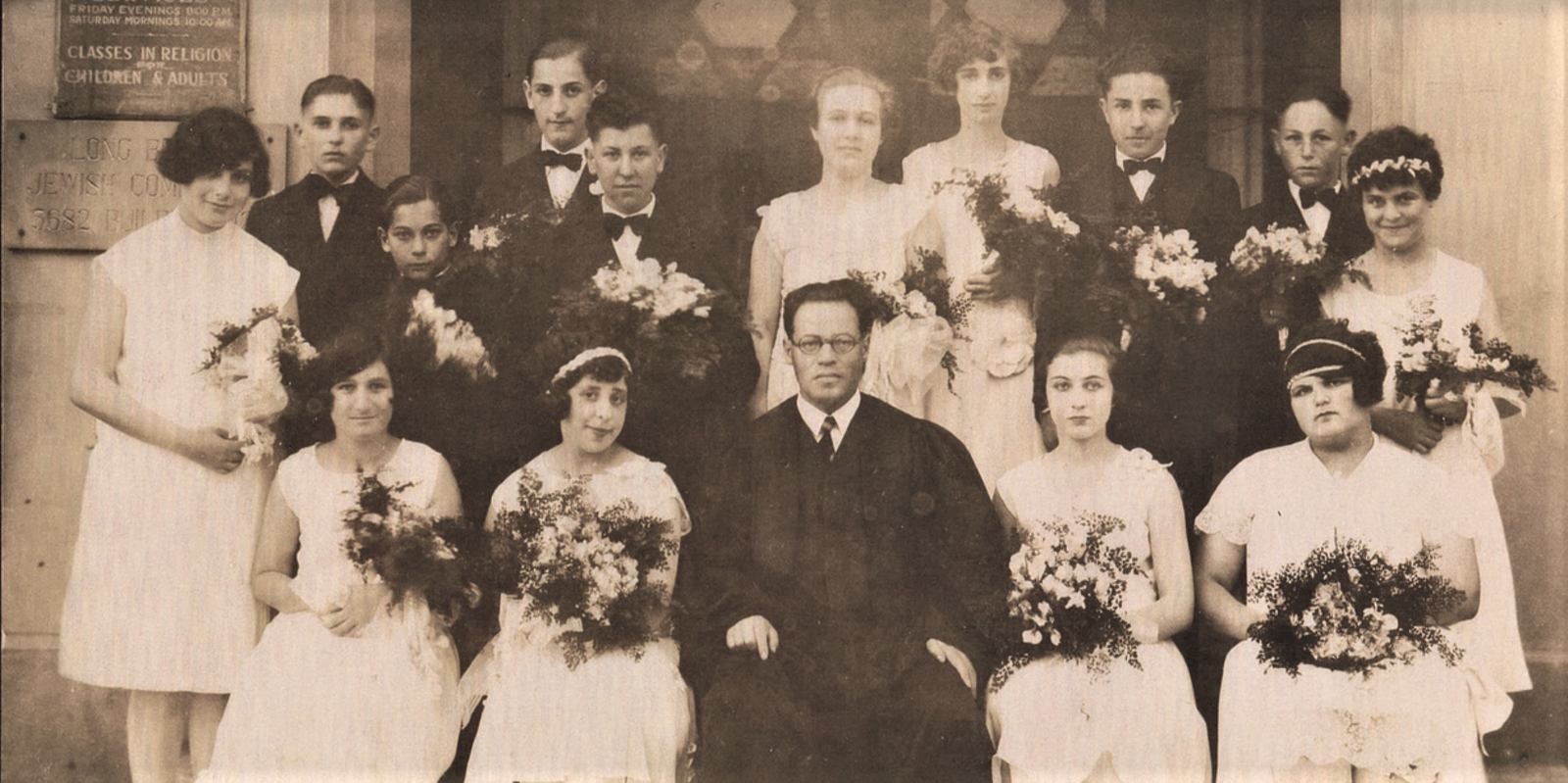 Rabbi Leibert with his B´nos and B´nei Mitzvah outside Temple Israel, Long Beach.
In late 1930, Leibert was appointed chaplain for Hollywood Legion 43, which was the 43rd division of the American Legion, an organization of veterans. This division was considered one of the largest divisions of the regiment. As a member of the Officers´ Reserve, he was considered the most promising to fill this honourable position. Leibert also worked in the CCC, the Civil Conservation Corps, where young people found useful work on various projects during the high unemployment of the 1940s. Actor Walther Matthau spent one summer as a teenager in the work of young Jews under the direction of Leibert, and later in life Matthau spoke highly of that summer.

The photo below is from the fall of 1935 when Leibert conducted a New Year´s celebration for Jews who worked for the CCC. Several of Leibert´s colleagues from the US military chaplaincy also participated.
Leibert is second from the right.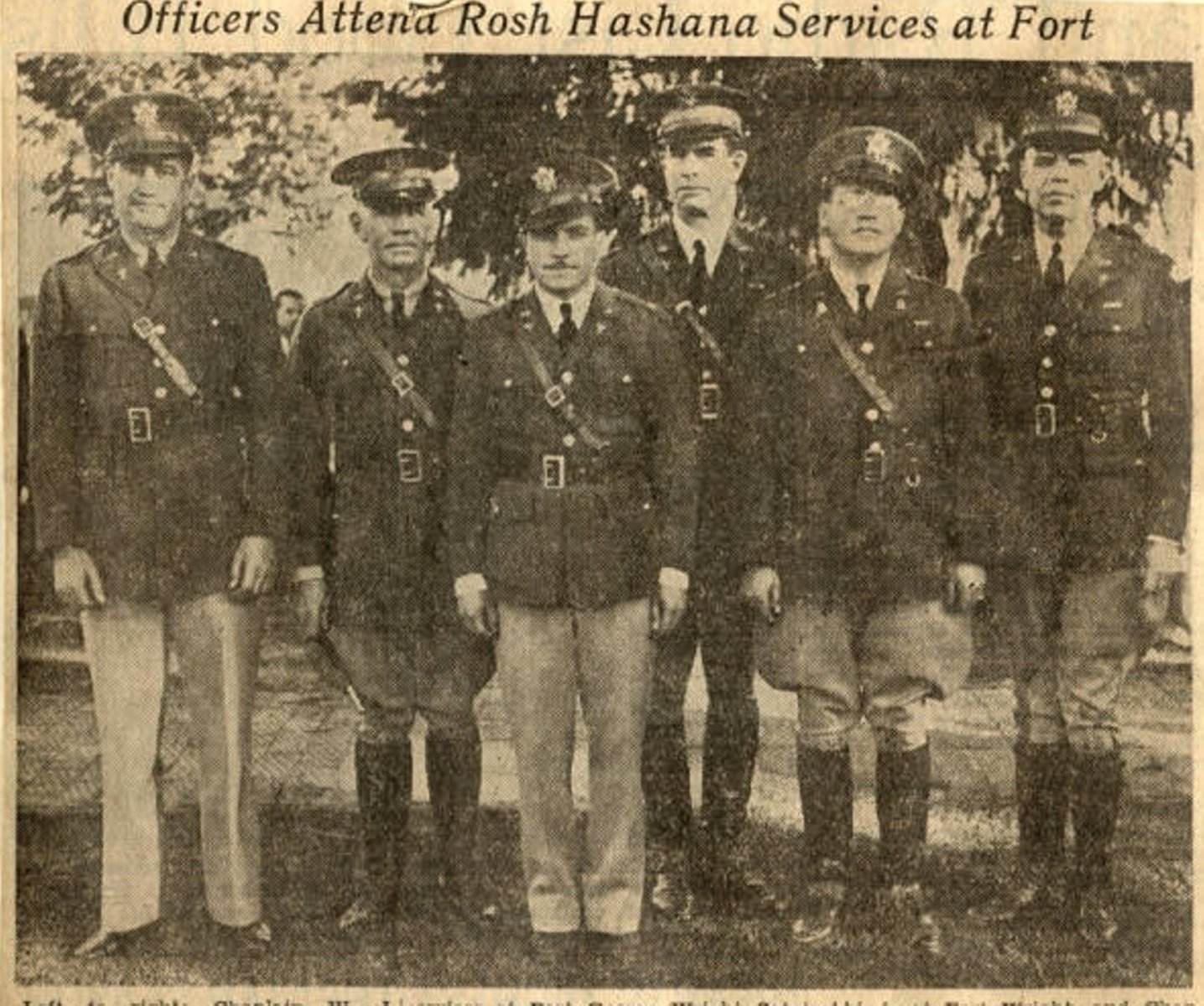 In 1933, Leibert retired and worked mostly as a lawyer in Los Angeles and mostly in favour of the poor.
But then the Second World War broke out and Leibert again wore the uniform of the the US Army

Chaplain.
1941: Rabbi Julius A. Leibert arrives in Iceland

Julius Amos Leibert was an Army Chaplain and major of rank from 1940, and later a lieutenant colonel. He served in the US Army until the late summer of 1945. He travelled widely within the US and abroad during the war years, and among other places to Iceland. He came to Iceland in the fall of 1942. To begin with, Jews in the British (who arrived in 1940) and American army contingents in Iceland did not bring rabbis with them (see here). Jewish religious gatherings took place under the direction of cantors, or those who were best versed in the rituals of Judaism.

There are various sources about Rabbi Leibert arrival in Iceland in 1942, when he presided over the Rosh Hashanah (New Year´s) festival and at Yom Kippur (The day of Atonement), but the most important on is the information that appears in the US Army newspaper in Iceland, The White Falcon.

The most amusing narrative of Leibert´s first visit in Iceland, however, can be found in the Wisconsin Jewish Chronicle of October 23, 1942,  in Boris Smolin´s column: Between YOU and ME:

And here are regards from the Jewish boys in Iceland and Greenland - Chaplain Major Julius Leibert of the U.S. army, who is stationed at Jefferson Barracks, St. Louis, Mo., has just returned from a special overseas mission. - He conducted services in Iceland on Rosh Hashanah and Yom Kippur. - More than 800 Jewish soldiers attended these services, among them, at least 40 officers and men of the RAF - On his way back from Iceland, Major Leibert conducted services for Jewish soldiers in Greenland and Labrador. - This is perhaps the first time in recorded  history that organized Jewish services have been held in these far-flung northern outposts. In Iceland Major Leibert found two Jewish families, one of the refugees.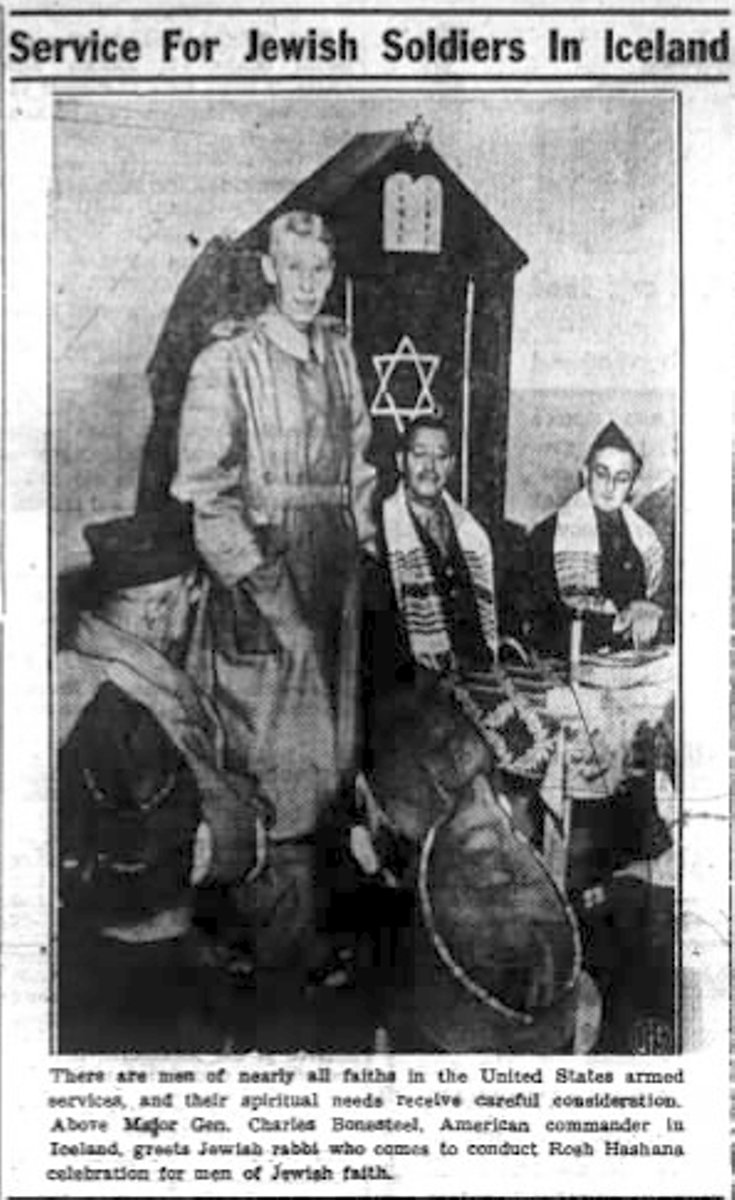 The commander of the United States forces in Iceland, Charles Bonesteel visited the Jewish congregation in Iceland in the fall of 1942. The picture appeared in The Daily Times Tribune in Alexandria, Indiana in December 1942. The man with glasses to the right of the general is none other than Julius Leibert.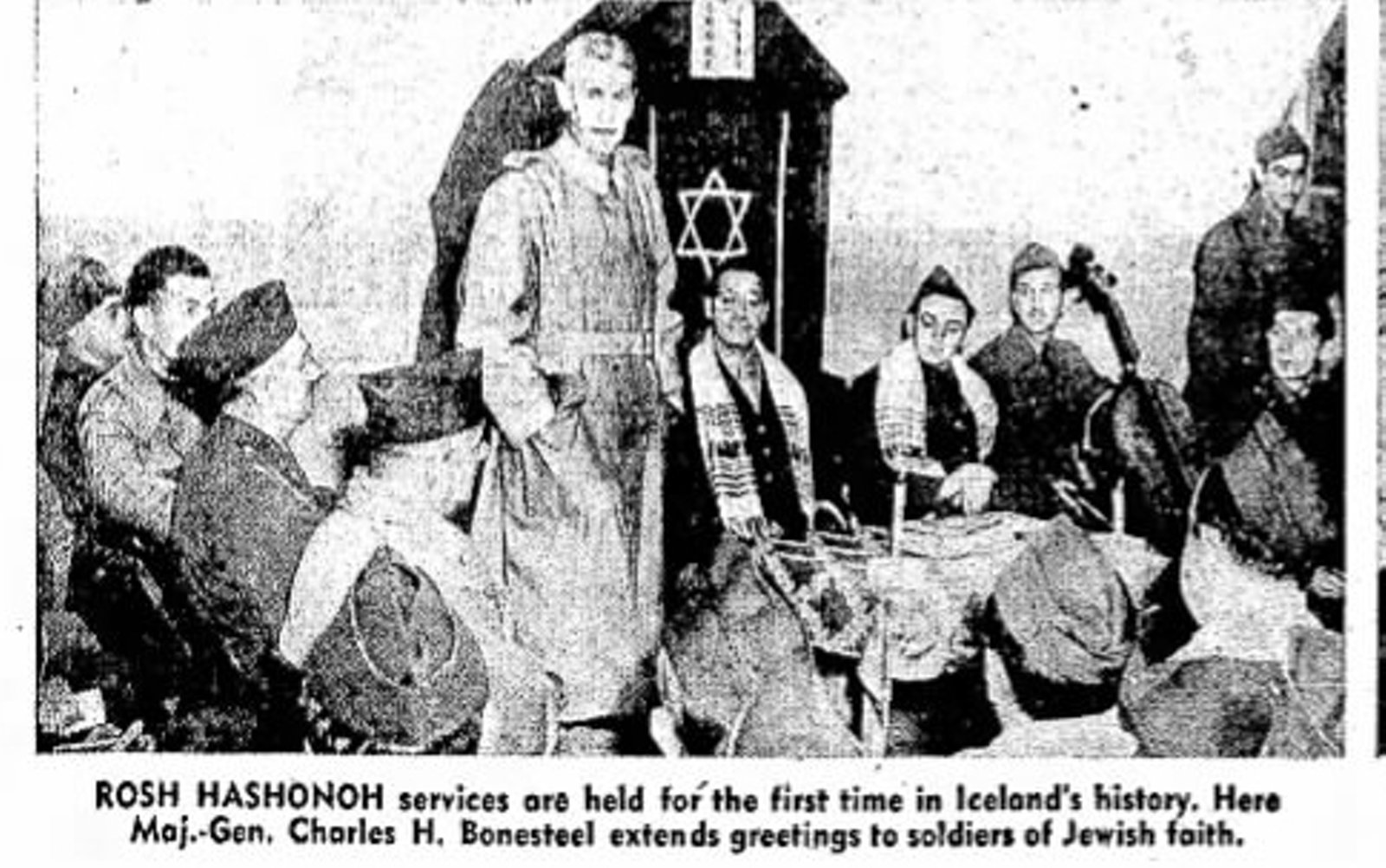 Same photo, but uncut in The Edwardsville Intelligencer Edwardsville, Illinois), May 18, 1944. See also Morgunblađiđ.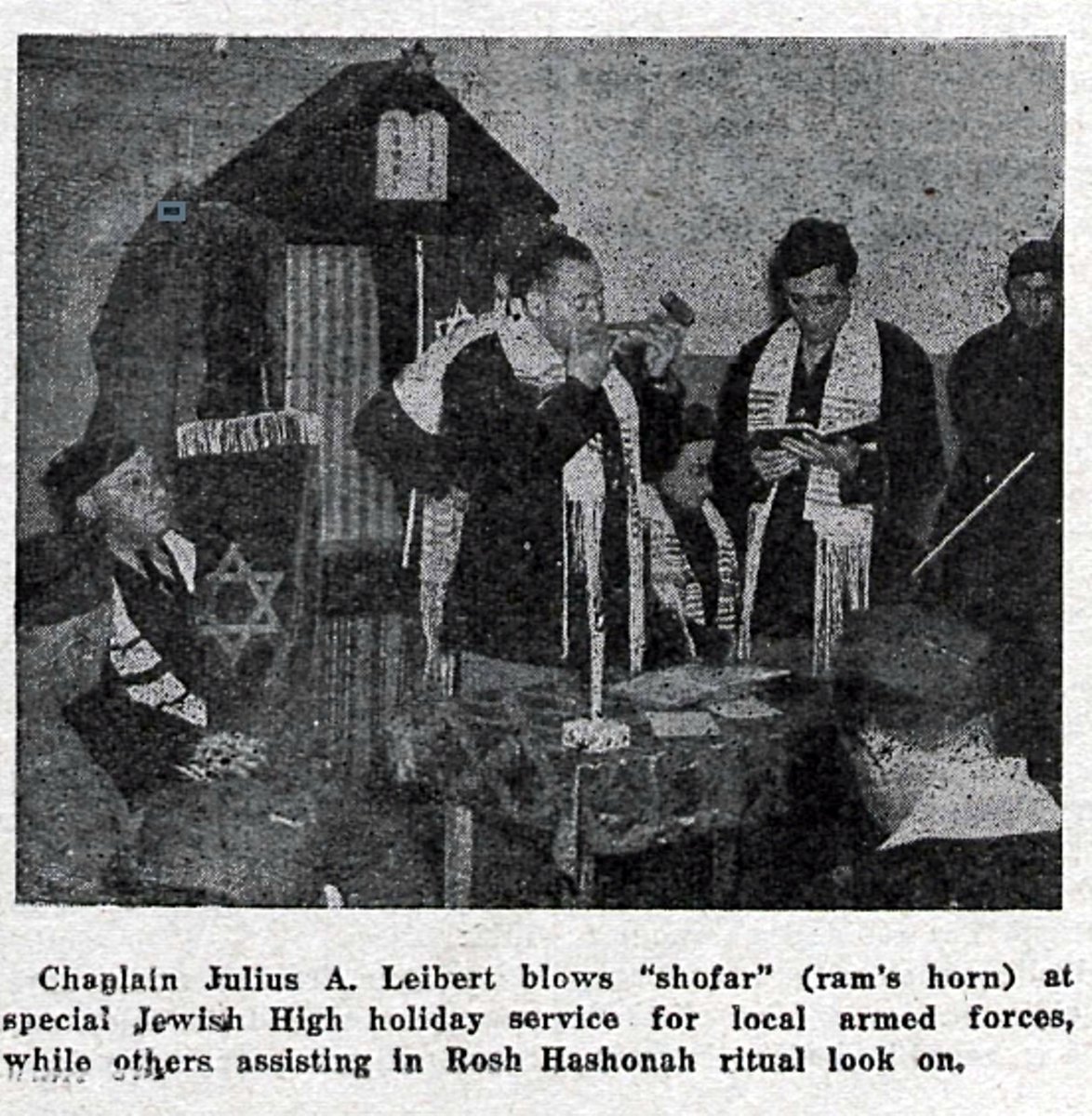 In 1943, Rabbi William H. Rosenblatt took over religious observance among the Jews in Iceland, and later Rabbi Abraham Goldstein worked in the country. Often refugees, German and Austrian Jewish families, who had been allowed to settle in Iceland at the end of the 4th decade, took part in those gatherings. One of the people who came to the farm and larger festivals the most was Hans Mann. Hans (later Hans Jakobsson) received and used for a long time a prayer book (Siddur) issued by the American army during the war. The family of Hans Mann´s Icelandic wife has kindly allowed me to use a photo of the book which is now in their possession.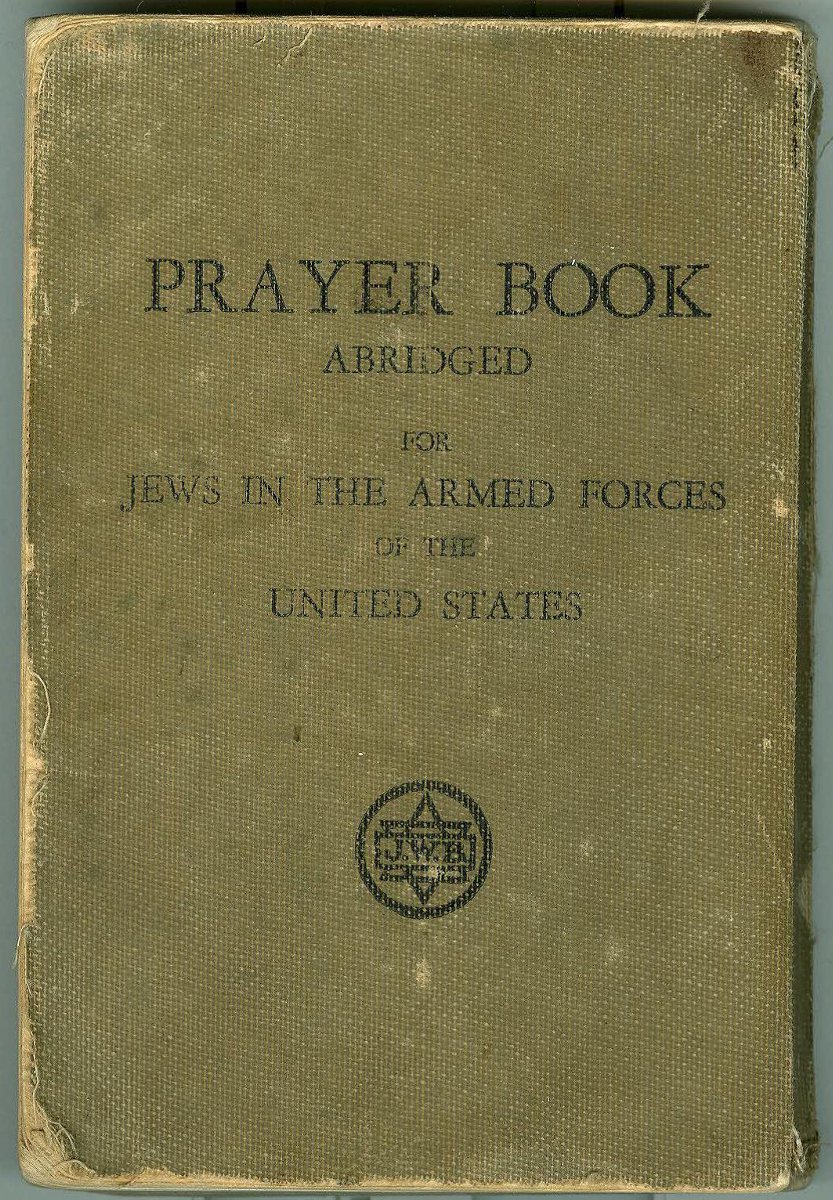 Jews gathered for prayers in various places in Reykjavík and the surrounding area. In The White Falcon in 1945 one can see various places of worship mentioned: March 6, 1946  there was e.g. prayer service in Finley barrack (Day Room) at 11.00. On Tuesday, there was a service in the Davis Theater at 18.00, White Rose Hall Theater in Reykjavík at 19.30 and in Turner Chapel likewise at 19:30. On Saturday, March 10, there was a service at the Rabbi´s office in the Dailey-Barrack at 11:00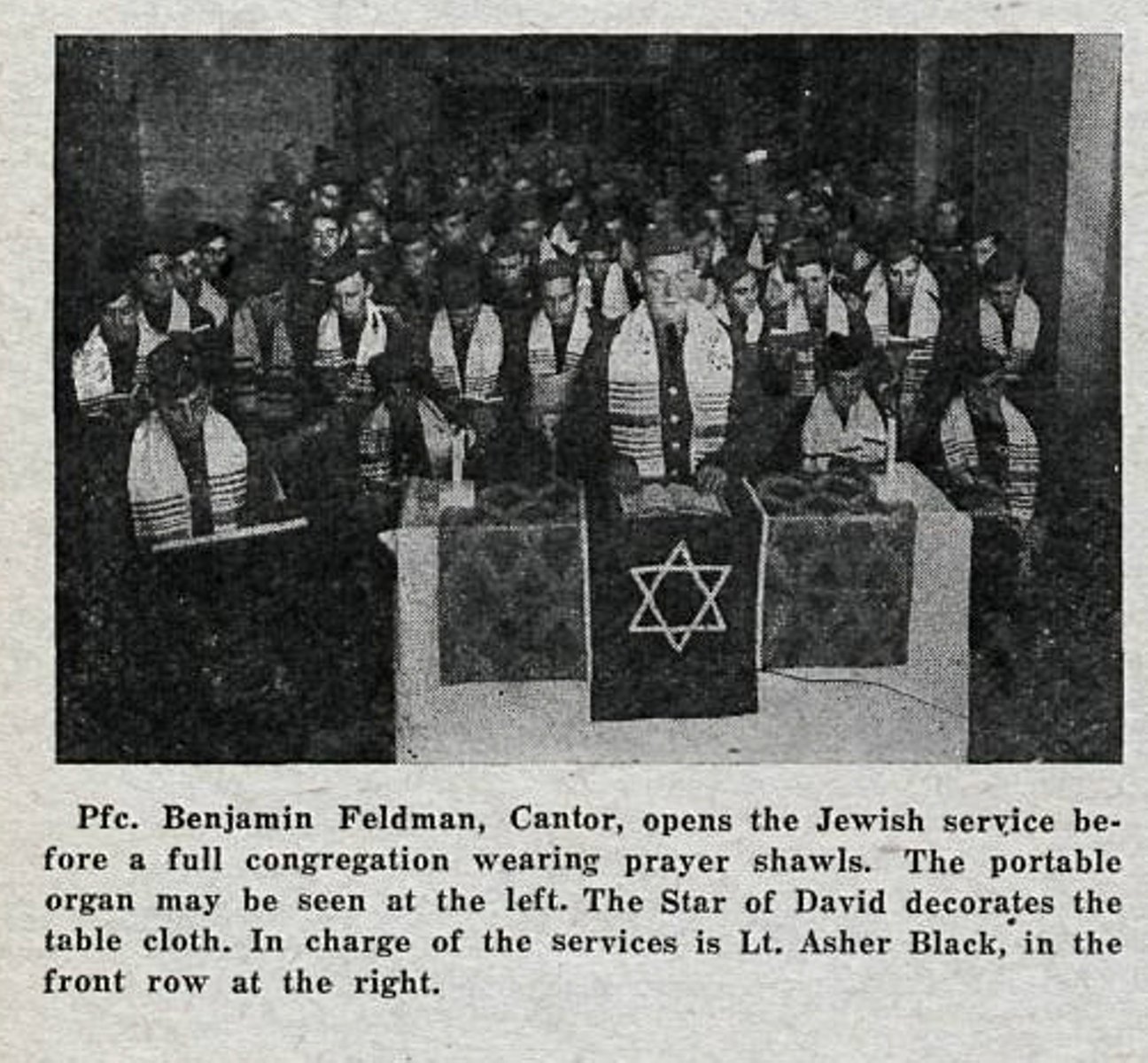 Before Leibert came to Iceland, Benjamin Feldman made sure that everything was done decently.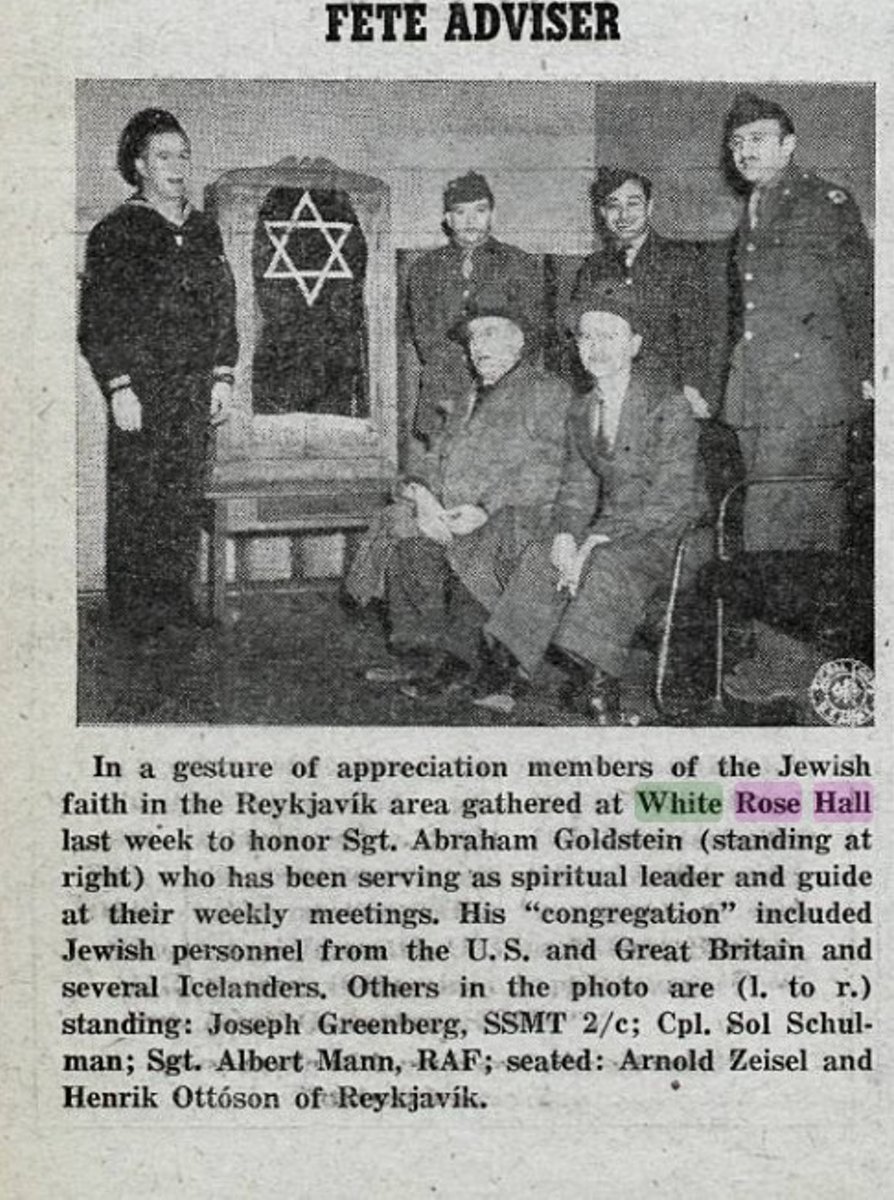 Jews and Icelandic nativ Hendrik Ottósson in 1945. Ottósson, who was not Jewish, married a Jewish refugee.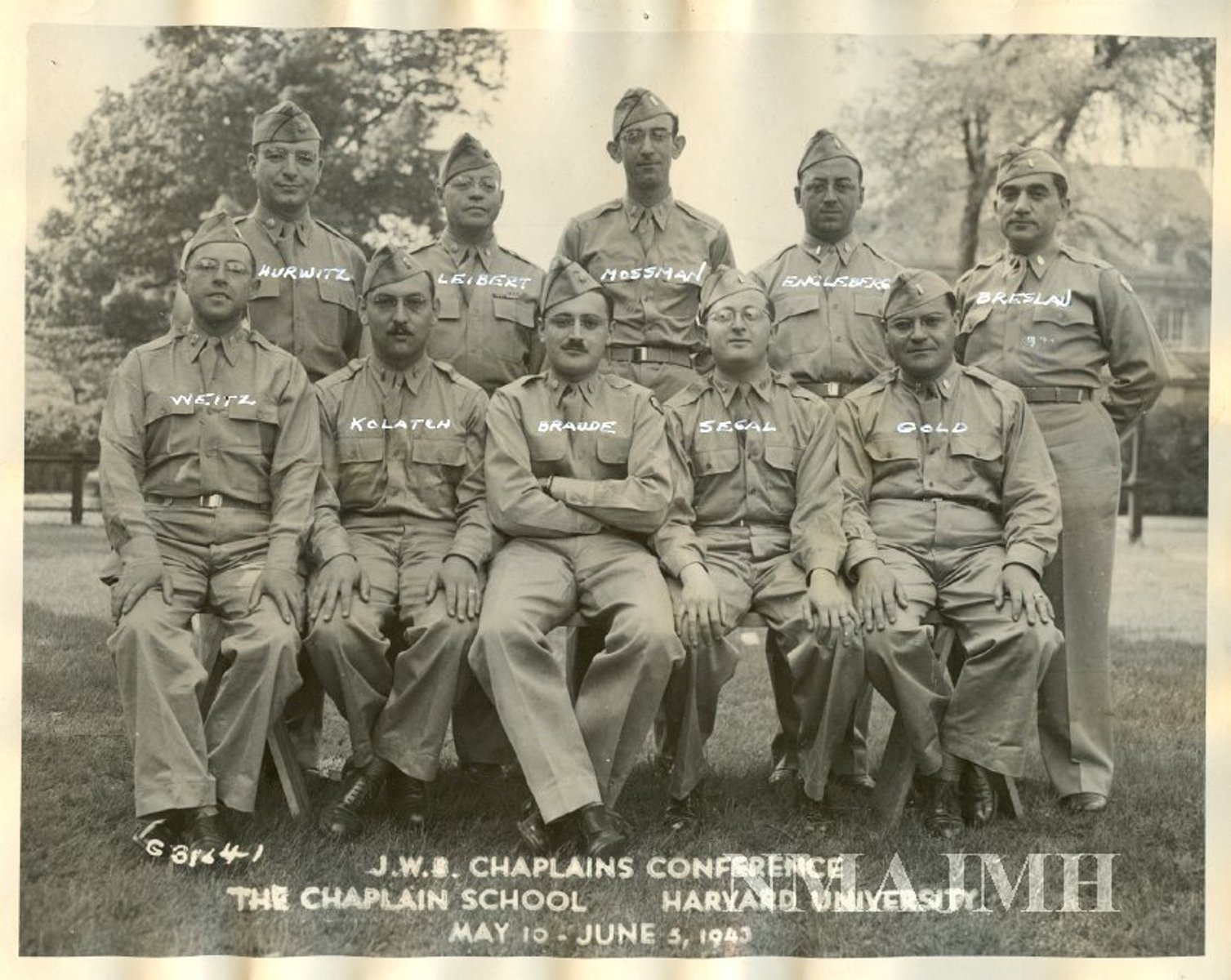 Leibert, second from left in the back row, at a conference of rabbis on the campus of Harvard University in May 1943.

In the post World War II years, Leibert served in various congregations in the United States, both in permanent positions or an assistant vicar. He was in Pensacola, Florida (1951-1954), later in Anchorage, Alaska, San Luis Obispo, Eureka, San Rafael (1956-57) and Santa Cruz (1957-58) in California. Julius and his wife settled for a while in Marin County in 1956 and built up the Congregation Rodef Sholom there. He also taught religious history at a high school in Marin. But he didn´t dwell there for long either, even though his intention was to settle down there and enjoy the eve of his life. Other and new projects were always waiting this passionate person.

Prison chaplain Leibert 1954-57
In 1954, Julius Leibert took on the task of caring for Jewish prisoners in the famous San Quentin prison. He also served as a chaplain at Folsom and Alcatraz prisons, and at the same time served at Hamilton Air Force Base.
Leibert´s work as a prison chaplain was very notable, and he cared deeply about the rights of prisoners that the American authorities tried to violate. In 1957, he resigned from San Quentin Prison. He did so due to pressure from the authorities. He was one of those men of God who vehemently refused to undergo a lie detector test. Authorities wanted prison chaplains to provide information that inmates might have confided to their religious guardians
. Julius Leibert then uttered these words upon his departure from the prison system:
If the word of a man of God is not enough - be he rabb
i, priest or minister - he might just as well take of his clerical gown and bury them.
I resent the thought of having mechanical means of testing my credibility.
With the help of Emily Kingsbery, Leibert wrote the book Behind Bars, What A Chaplain saw in Alcatraz, Folsom & San Quentin. The book, published in 1965, shows the work and thoughts of a man who valued all human life equally and did not judge people, when they had already been sentenced to insanely long and harsh sentences in an unfortunately, and at times, insanely unjust US legal system, where there has been deliberately violation of the rights of the minority groups of society; a system that more and more Icelanders seem to be embracing.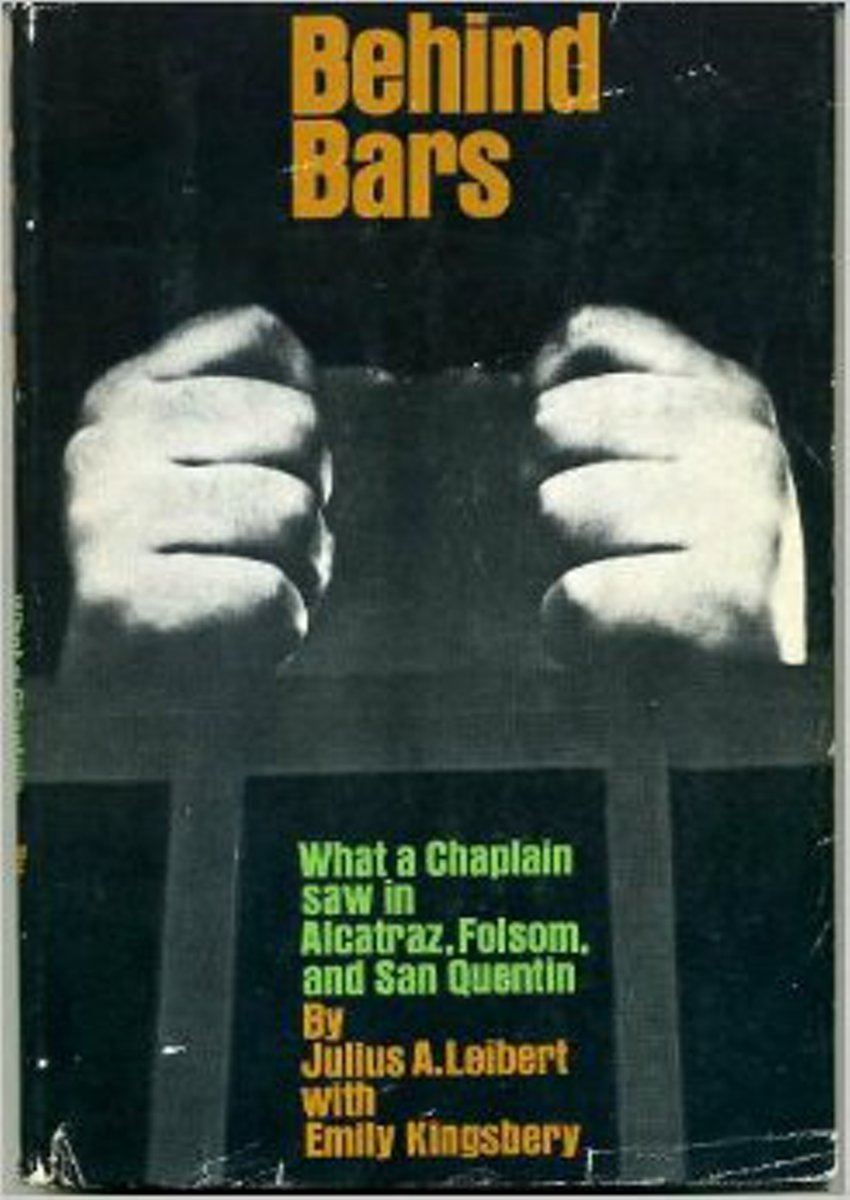 After completing his work for prisoners, Leibert served a congregation in Santa Cruz. When he reached his retirement age, he could for no reason quit his busy schedule and life commitments. He began leading religious services in Reno, Nevada. He was the first rabbi of a new congregation in that city. In 1964, he gave the congregation (Temple Sinai) its own Torah scroll, which is still in use. Mark Davis, the fosterson of actor and entertainer Sammy Davis Jr., who had converted to Judaism after a car accident, became Bar Mitzvah in Reno in 1973.

Leibert, who was surely a man of spiritual freedom, wrote about Nevada:

Nevada is the only state that has shed hypocrisy by allowing liberal attitudes.
Leibert with the first Bar Mitzvah Boy at Temple Sinai in Reno in 1964. His name is Stephen Jaffe. He still resides in Reno.

Julius Leibert passed away in 1968 and was laid to rests next to his beloved wife Leona in a Jewish cemetery at Hills of Eternity Memorial Park in Colma, San Mateo County in California.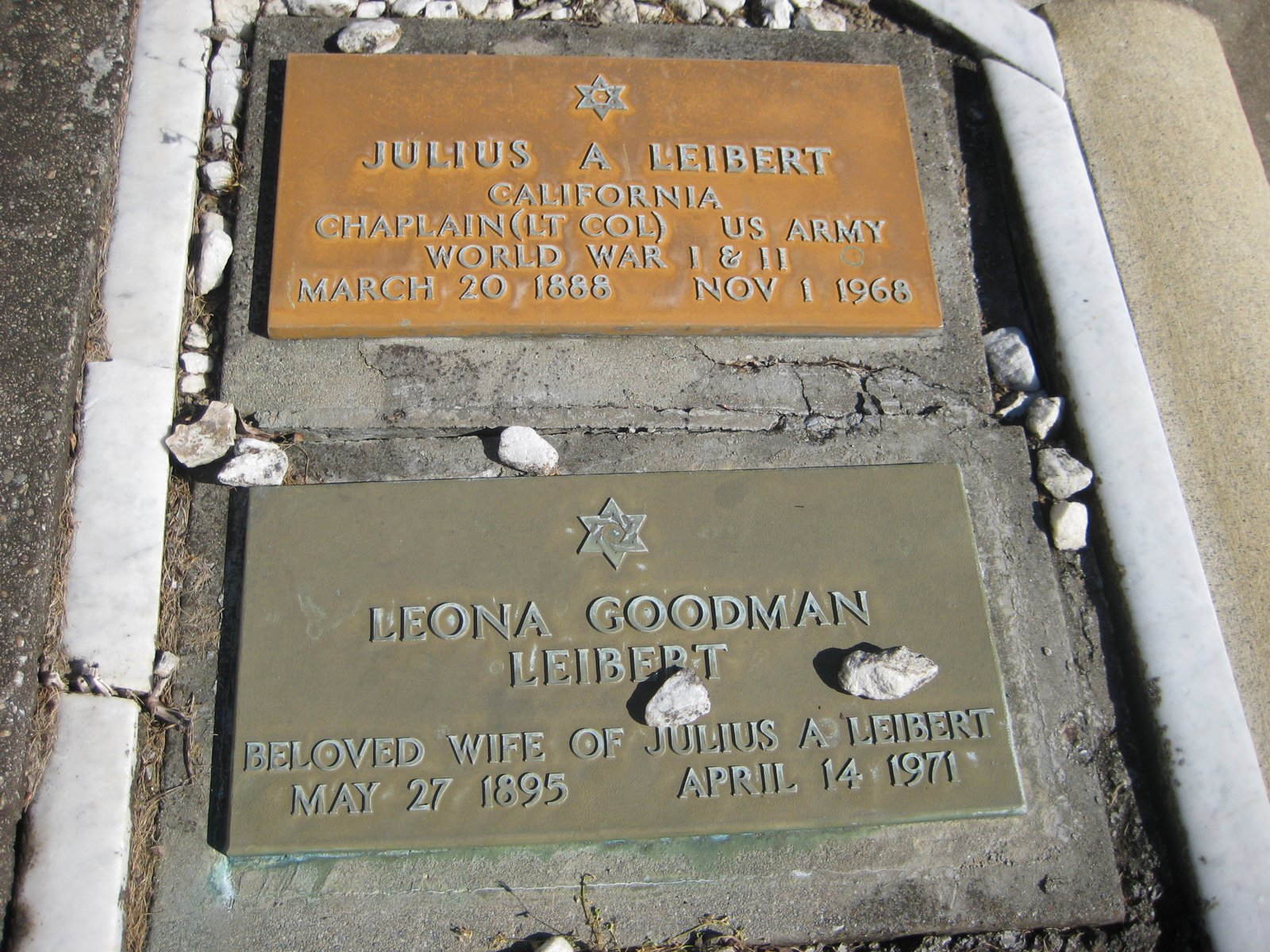 Author:
Dr. Vilhjálmur Örn Vilhjálmsson
Further reading in English and French:
Previous posts about the first religious gatherings of Jews in Iceland, refugees as well as foreign servicemen, in Iceland:

Other articles on Icelandic Jewish matters by the author:
Please DO NOT use my articles without a proper references.

« Síđasta fćrsla | Nćsta fćrsla »